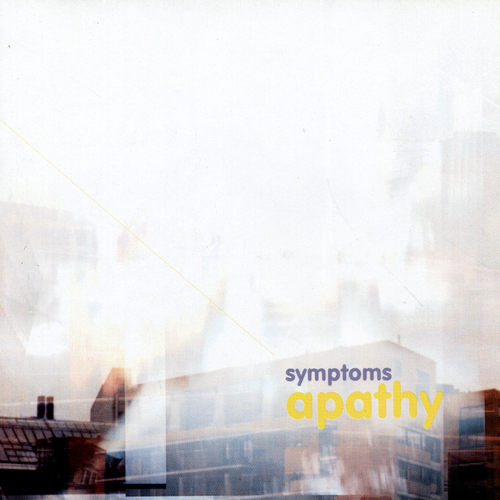 Apathy
Available Formats
Tracks
Price
Buy
CD Album
6 tracks

£

8.99

Download Album (

MP3

)
6 tracks

£

5.94

Download Album (

FLAC

)
6 tracks

£

5.94
Description
Symptoms - Apathy
Release date 17 September 2001

The 2nd Album release by Denmark's Klaus Ammitzbøll (brother of Silo's Fred) AKA Symptoms
takes the listener on a deeper more introverted journey than his highly acclaimed debut
"symptoms" yet retains that attractive mix of 'one guitar, one PC' lo-fi and a breathtaking
harmonic skill.

Klaus is exploring here music produced to have a direct effect on the body and corresponding with
an internal sensing of it's states. He says "The physical, the actual state of the body becomes a
source of inspiration, and there is a dialogue between the listener's body and the music. The
listener finds his body influenced by the music in return, in much the same way the musician's
state influences the music he is making."

"This doesn't mean there are no such things as spiritual or intellectual music. These are simply
different ways of exploring the physicality of being. In my opinion thoughts have a distinctive feel
to them, which can be translated into physical music."

Reviews
This may not be to everyone's taste but, forget that; this is album of the month because we've
talked about nothing else and it makes those chillout compilations seem positively hot.
Andy
Jones (editor) FUTURE MUSIC
The maturity of Symptoms' sound is quite remarkable. With a single guitar and a PC Klaus
elaborates upon the ambient sounds of urban environmental pollution. Klaus has simply turned
these things into shapes of beauty. Harnessed here is the raw energy in the air all around us.
Andrew Morrison SHETLAND TIMES
..a murky and sometimes beautiful world of guitar distortion, samples, raw bass and quite
hypnotic melodies. Original and strangely addictive.
Paul Sullivan DJ
An album of one-man-and-his-laptop antics with a difference, from Fred out of Silo's brother (no
less). The difference is the use of guitars, continuing their rehabilitation into polite society after
their community service on Fennesz's album last month.
Daniel Bell MUZIK
Tracklisting
CD Album (WM32)
Symptoms

- Asphalt Mirror

Symptoms

- Old Man's Music

Symptoms

- Stale City Air on A Morning

Symptoms

- Mute Noise Of Longing

Symptoms

- Burning To Be Gone

Symptoms

- Crack In The Sky
Download Album (WM32)