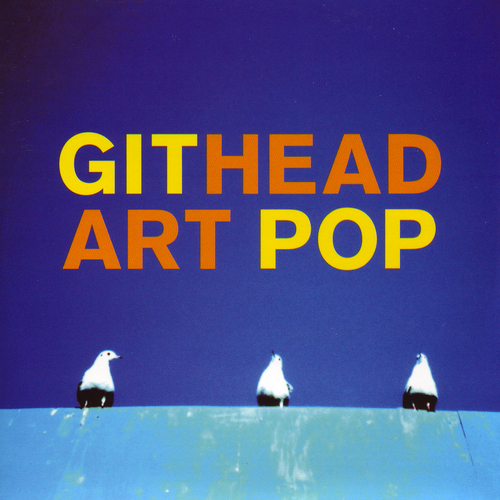 Art Pop
Available Formats
Tracks
Price
Buy
CD Album
11 tracks

£

10.00

Download Album (

MP3

)
11 tracks

£

7.99

Download Album (

FLAC

)
11 tracks

£

7.99
Description
Githead - Art Pop
Formed initially as a one off for the label's 10th birthday bash in April 2004, Githead quickly
established a life and voice of its own. Its "all star" line up –comprised of
Wire's
Colin Newman
,
Robin Rimbaud (Scanner) +
Malka Spigel
& Max Franken from Minimal Compact - may have led
many to presume that its life would be short, indulgent & acrimonious. Far from it. Githead, from
the outset has always been a band determined to carve out its own identity and to refine its vision
through its work.
2004's debut EP Headgit playfully set out Githead's stall of pulsing, funky rhythms, dub bass-lines
& deadpan vocals set against chiming guitars with a catchy chorus thrown in for good measure.
2005's debut album Profile took the Githead sound into darker and broader sonic territory
garnering a few "album of the year" accolades from those paying attention. Gigs through Europe
established the band as a live entity pushing them further into the realisation that Githead is far
greater than the sum of the parts. The next album HAD to be even better than the first!
Thus 3 years after it's debut we have
ART POP
, Githead's 3rd release and the band's most fully
realised work to date. From the single chord build up that serves as the intro to the album's
opener "On Your Own" (a pop classic for the disenchanted) through to the spaced-out delays that
clang the final epic "Live In Your Head" * to it's close,
ART POP
is a real voyage.
Lyrically much less opaque than its predecessors,
ART POP
brings an emotional depth and
breadth which will surprise and dare we say even shock. Contrast the full-on distorted diatribe on
urban existence of "Drive By" (a kind of "Parklife" on crack) with the acoustic emotional
nakedness of "Lifeloops" or the joy of an Indian summer day captured in "Rotterdam" with the
twin voices of darkness & light on "Darkest Star".
With
ART POP
Githead wears its heart on its sleeve. It is more art and more pop, by turns, than
either of its predecessors. Add to the previously mentioned "On Your Own", the chiming indie pop
of "These Days" (with its rich harmony laden chorus), the oh-so-knowing nagging post-pop of "All
Set Up", the loping, brooding-yet-catchy "Drop" and irresistible acid space funk that is "Space
Life", and you have a band that know full-well how to twist their art into shining pop
magnificence. Yet through the speed-rush of "Drive By", the strangeness of "Jet Ear Game" (whose
vocal is a vocoded, audio rendering of Google translated reviews of Profile), the unsettling
atmosphere of "Darkest Star" & the sheer audacity of "Live in Your Head" * (a song which in its
seven minutes & forty two seconds tracks a totally unexpected path through its arrangement)
Githead makes the listener aware that it's pop is ever tempered by the fact that it is always art.
Githead is not the band you think it should be. ART POP is not the album anyone would expect it
to make. You can ignore it if you like but Githead's significance grows with each passing day. In
2004 Githead were a cult classic of the future. That future is now here.
Reviews
Simultaneously brooding, lush, aggressive and lyrical, this is a reclamation of pop and rock music at their most atmospheric and beguiling. -
Michael Bracewell, The WIRE Magazine
Newman seems to have relocated the combination of sardonic intellectual wit and winning pop song craft that made Wire such an engaging (and influential) post punk prospect. ***** -
Andy Gill, The Independent
Art Pop is a finely balanced record that seamlessly fuses familiarity and inventiveness. -
Wilson Neate, All Music Guide
Art Pop does exactly what it says on the tin. Githead get my vote again. -
Dean Thatcher, DMC Update
the band combine postmodern lyrics with snarling, melodic funk-grind to put the modern art back into Art Pop -
J R, Flavourpill
Another expertly skewed missive from a paralell pop dimension -
James Papademetrie, Plan B
Gloriously demented -
Dave Simpson, The Guardian
grounded in technological modernity, not the tired styles of yesteryear.-
Louis Pattison, BBC
Art Pop is full of sturdily built, confident, well crafted stuff. Recommended, obviously. -
Richard Foster, Incendiary
With Art Pop, the avant rock supergroup Githead finally delivers, in abundance, on the promise of 2005's Profile. ***** -
Andy Gill, The Independent (2nd review)
"On Your Own" is as uplifting an anthem as Newman has ever written. -
BH, Flux
So with Rimbaud crossing his normal boundaries, Newman stretching his pop wings and Minimal Compact's awesome rythmn section, the supergroup (of sorts) Githead succesfully turn upside down all possible preconceptions. -
Artrocker
GITHEAD create a marvelous connection of organic and electronic music.
-
Kay Wedel, Ox
Slyly subversive gems that reall Wire when they were edging into poppier territory.-
John Lewis, Uncut
Art Rock collective continues to defy expectations.-
Phil Mongredien, Q
Of course Wire fanatics and those who have continuously followed Newman's solo career will enjoy Art Pop, but additionally it has the potential to reach entirely new audiences as previously mentioned. Finally, Githead has made good on its promise with this essential release. -
Gary Suarez, Brainwashed
Githead produce spacey electro-funk that deconstructs the best electronic musoic and then rebuilds it to their own schematics... Accessible yet unusual. -
Colin Stephenson, Mercury Moon
a deeply textural, and multi-dimensional sound that is nearly impossible to pinpoint on a timescale and surprisingly unpredictable. It's pop-rock, but refined, elaborate and imaginative.-
Michael Ardaiolo, Audiversity
Art Pop is arguably one of the best albums of 2007 yet. At times reminiscent of the smart pop of Peter Gabriel and the guitar swirls of My Bloody Valentine (oh yeah, and Wire. It sounds like Wire sometimes too, if you didn't know), Githead is atmospherically blissful and sonically delicious and/or nutritious. 5/5 -
Joe Pelone, Wonka vision
Tracklisting
CD Album (WM39CD)
Githead

- On Your Own

Githead

- Drop

Githead

- Drive By

Githead

- Lifeloops

Githead

- These Days

Githead

- Jet Ear Game

Githead

- Space Life

Githead

- All Set Up

Githead

- Darkest Star

Githead

- Rotterdam

Githead

- Live In Your Head
Download Album (WM39)