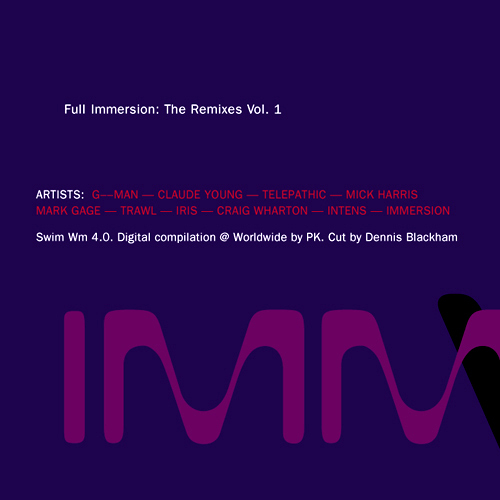 Full Immersion
Available Formats
Tracks
Price
Buy
CD Album
10 tracks

£

8.99

Out of stock

Download Album (

MP3

)
10 tracks

£

7.99

Download Album (

FLAC

)
10 tracks

£

7.99
Description
Immersion - Full Immersion
Release date 10 April 1995


"Oscillating" Immersion's first release on Swim, attracted a wide cross section of admirers, who
raved about its almost beatless, electronic strangeness. As a result offers to remix started coming in and we started accepting them. As we got enough we liked we would compile them on to 12"s.
The first volume featured Mr. Scanner, Robin Rimbaud (as Trawl), US techno pioneer Mark Gage
(Vapourspace, Cusp) who the swimsters had met through mutual friends during one of his UK
trips, Craig Wharton, a long time buddy of Gage's and Intens, yet another alias of Colin & Malka.
The Trawl mix proved to be a dancefloor fave for many years with it's early big-break approach.
The second volume of remixes drafted in some US techno talent in the shape of ex-Psychic TV'er
Fred Giannelli who had his own highly respected Telepathic label, soon to be star DJ Claude
Young (his first remix) as well as ex-Napalm Death and Scorn man MickHarris along with mystery
remixers "Iris" (the only mystery artists who definitely aren't Colin and Malka). There became
something on an unstoppable event about it all and in all 3 twelves were released with many more
mixes unreleased.


It then occurred to us that we could compile some of these mixes onto an album thus "Fulll
Immersion" was born. To the mixes from the first two 12"s were added bonus remixes by g-man
and Immersion themselves. Although in hindsight the remix only album has become an accepted
format, in 1995 this was not so and "Full Immersion" was in fact a ground breaking concept.
Tracklisting
CD Album (WM4.0)
Immersion

- Envelope (g-man mix)

Immersion

- Immersion ("Slow Drift" mix by Claude Young)

Immersion

- Water Walker (Telepathic Mix)

Immersion

- Immersion ("Walkabout" mix by Mick Harris)

Immersion

- Oscillating Between (Mark Gage Mix)

Immersion

- Water Walker (Trawl Mix)

Immersion

- Oscillating Between (Iris Mix)

Immersion

- Oscillating Between (Craig Wharton Mix)

Immersion

- Les Isles Flottantes (Intens Mix)

Immersion

- Immersion ("alternative mix" by Immersion)
Download Album (WM4.0)