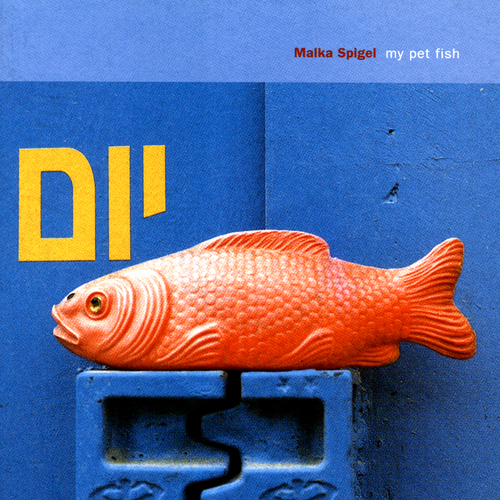 My Pet Fish
Available Formats
Tracks
Price
Buy
CD Album
11 tracks

£

8.99

Out of stock

Download Album (

MP3

)
11 tracks

£

7.99

Download Album (

FLAC

)
11 tracks

£

7.99
Description
Malka Spigel - My Pet Fish
Release date 10 February 1998
Although Malka has an illustrious past to capitalise on, having been bass player and occasional
vocalist of Israeli 'Art Funksters' Minimal Compact (her vocal prowess nonetheless impressed
enough to score a part in the soundtrack of Wim Wender's 'Wings of Desire' through the Minimal
Compact song 'When I Go'), one third of the groudbreaking proto-trip hop outfit Oracle in the late
80's and half of the team (with partner Colin Newman, that Wire bloke) that is Immersion, Swim
and the authors of Bastard, 'My Pet Fish', only Maka's second solo album, is a remarkably forward
looking venture.
Standing shoulder to shoulder with Swim's 'future speculative' series of releases (Ronnie & Clyde's
'In Glorious Black and Blue' and Colin Newman's 'Bastard') 'My Pet Fish' proposes a kind of
sneaky pop which not only defies categories but invents a few as well mashing up, as it does, all of
the styles which define the late 90's into a heady brew fit for post millenial consumption.
Malka's music has been defined as 'World Class Pop' (NME) and 'Plain Bloody Fab' (MM).
Get the
pop music of the future NOW.
see also
GITHEAD
,
IMMERSION
,
COLIN NEWMAN
.
Tracklisting
CD Album (WM10)
Malka Spigel

- One

Malka Spigel

- Humans

Malka Spigel

- Dreamwalking

Malka Spigel

- I Said, You Said

Malka Spigel

- Parasites

Malka Spigel

- Like Machines

Malka Spigel

- 4D

Malka Spigel

- The Fishes and The Shining Sea

Malka Spigel

- Memory of Tomorrow

Malka Spigel

- Fly

Malka Spigel

- It's Odd
Download Album (WM10)