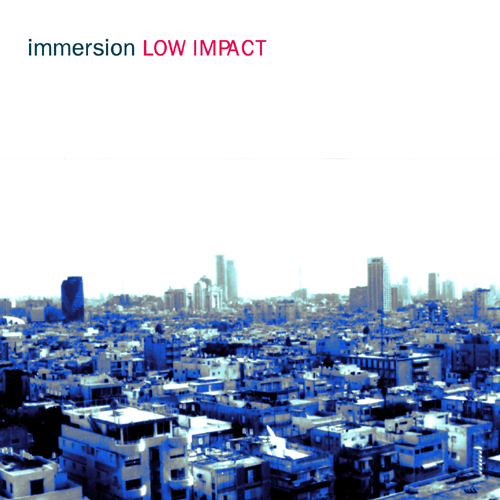 Low Impact
Available Formats
Tracks
Price
Buy
CD Double Album
12 tracks

£

8.99

Out of stock

Download Album (

FLAC

)
6 tracks

£

5.94

Download Album (

MP3

)
6 tracks

£

5.94

Download individual tracks
From £0.99
Description
Immersion - Low Impact
Release date 9 September 1999


BACKGROUND
Immersion's 1994 debut Oscillating while mostly ignored in the UK was a great success in the rest
of Europe (aided no doubt by the belief that the mystery shrouded duo hailed from Germany). The
only UK review, in the Wire, described it as "acid trax wound down to such an extent that the
notes fold slowly in on one another rather than jumping around in hyperventilating panic".
However the more adventurous members of the UK & US techno community took note of this
record which acted as a distorting mirror on the music they were fashioning and before long an
ongoing remix project was underway. Resulting in a series of 12"s (and eventually an album - one
of the first examples of a now common format). Immersion's submerged dancefloor rhythms were
transformed during '94 & '95 by Scanner, Vapourspace, Telepathic label boss Fred Giannelli,
Claude Young then an emerging star producer , LFO's Gez Varley (in the process of giving birth
to his g-man identity), Mick Harris, Paul Schutze, Cylob and others.


LOW IMPACT
Fast cut to the late 90's.... It was 1999 and the whole musical climate had changed. Turning away
from the dancefloor, Immersion's new album reflected the beatless boundaries where styles
become immaterial, where great music stands on it's creativity alone and tribal considerations of
what it is are long forgotten.

"A masterpiece of modern, contemplative, electronica. Low Impact contains music of Immense
proportion yet keen subtlety. Music that will envelop and subvert all the listener's preconceptions
of ambience and isolation.

Vague, guide like only comparisons include Oval, Windy & Carl, Pole, Bowery Electric - labels like
Chain Reaction, Kranky, Ochre.. We're talking empathy here, process, feel, not sound."


BACKFLIP
The initial pressing included a 2nd, 30 minute disc featuring the 1995 "2nd Immersion" EP plus
previously unreleased material which again pre-empted the kind of electronic production
techniques taken for granted today.
Reviews
A mere six tracks, each one unravelling into a beautiful, well, immersive experiences, it's as
enticingly minimal as music gets.
(Calvin Bush) MUZIK
a gorgeous Ttableau of womb-adelic drift and oceanic headfunk
(Lee Ward) FLIPSIDE
there's definitely something haunting under their homogeneous driftscape
(Ian Penman) THE
WIRE
acheiving an almost symphonic, ethereal quality
(Steve Nickolls) WAX
Tracklisting
CD Double Album (WM12)
Immersion

- Days Under The sun

Immersion

- Self Portrait (Immersed Diary)

Immersion

- High Yellow

Immersion

- Homage To Water

Immersion

- Dahab

Immersion

- Expanded Now

Immersion

- Fat

Immersion

- Shadow

Immersion

- How Long Is A Piece Of String

Immersion

- Drive

Immersion

- Purple Chaser (Live)

Immersion

- Scratching & Scraping

Download Album (WM12)